March is a busy time in your vegetable garden. The days are getting longer, the weather will be warming (hopefully) and the growing season is building momentum. Spring officially starts in March, but the longer days trigger new growth and signals time to start planting.
Planting isn't the only job to be done in your vegetable garden. Now is the time to finish off all those jobs you were planning on doing over winter, but never got around to because of the bad weather. Everything needs to be ready for the growing season when your time is focussed on the soil and plants.
General Maintenance
Weeding is an important job at the moment as the weeds will be waking up and starting to germinate after winter too. Get on top of the weeds early and it saves you a lot of work later in the year. Cover any areas of your vegetable garden or allotment that you are not using or that you have weeded but not yet planted. This stops the weeds from growing back and you having to repeatedly work the same area.
Pests are also going to be waking up after winter. If you have brassicas planted, they need netting to prevent pigeons from decimating your crop. Check brassicas for mold, mildew and aphids as these can be a problem in a damp spring.
Covering your soil with fleece, black pastic or cloches warms the soil, which then allows you to plant out much earlier. Weigh the fleece down using large plastic milk or soda bottles filled with water. These hold down the fleece, but without any sharp edges, they do not cause any damage.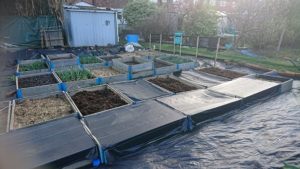 Finish up your digging and prepare your seed beds. Scatter fertilizer over the beds such as pelleted chicken manure or fish, blood and bone to ensure the soil is nutritious. If you are not planting straight away, cover your beds with tarps or black plastic to keep the weeds down otherwise you will be digging the beds again when you come to plant.
Order online or buy from the stores young vegetable plants that you do not have the space or time to grow from seed. Keep them out of the cold and harden them off before planting out at the right time.
Vegetables
There are lots of plants that you can start sowing in March. The following plants can be planted direct into prepared beds:
Beetroot
Broad Beans
Kohl Rabi (best sown towards the end of the month
Lettuce
Salad crops
Spinach
Spring onions (Scallions)
Swiss chard
Turnip
If the soil is warm enough, such as in a raised bed or if covered, you can make early sowings of:
Carrots
Parsnips
Peas
Radishes
Spinach
There is still time to start off some plants under cover, either on your windowsill or in a heated propagator. It's probably still too cold for these plants to go in an unheated greenhouse, but keep them somewhere warm and they will start off well and ripen before the end of the growing season:
Cauliflower
Chilies
Celery
Celeriac
Eggplant (aubergines)
French Beans
Peppers
Tomatoes
Potatoes can be planted out now too. Get your first earlies in the ground, traditionally on St. Patrick's Day, with your main crop potatoes planted at the end of the month. Remember to keep an eye on the weather and protect the foliage from frost.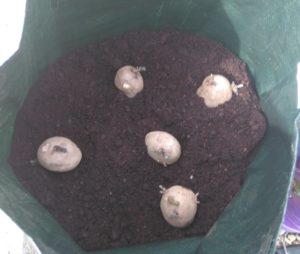 This is really your last opportunity to plant onion sets, shallots and garlic for a summer harvest. If any are bolting, then do not plant them as they will just bolt when summer comes. Remember to net or otherwise protect these as squirrels and birds will uproot them.
Asparagus crowns and Jerusalem archichokes need planting this month. Remember to prepare the bed properly for asparagus; they are a greedy plant and need plenty of compost digging in.
The following seeds can be sown in March for transplanting in April:
Brussels sprouts
Summer cabbage
Broccoli
Onions
Leeks
Fruits
This is the last month to plant bare root fruit trees and bushes. Bare root strawberry runners are also planted this month. Clear the old leaves from existing strawberry plants and clear the ground between them. Remove any damaged plants and give the strawberry bed a top dressing of fertilizer. Be prepared to fleece your runners to protect them from frost. Frost damaged flowers are easy to spot as they have a black eye at the centre of the flower. These are best removed as they will not produce fruit.
Fruit trees and bushes and overwinter vegetables will benefit from a good feed such as pelleted chicken manure or another high nitrogen feed. This encourages the plants to start growing and gives them the fuel to do so.
Finish up any winter pruning on your apple and pear trees while they are still dormant. Gooseberries and currant bushes can also be pruned. Remove the old stems from the centre of the current bushes and shorted the sideshoots to a single bug.
Force some early strawberries by covering some plants with a cloche. Rhubarb can likewise be forced with an upturned bucket or bin. Just remember that rhubarb in particularly must be rested the year after forcing, meaning no picking. Most people will force a single crown per year, leaving the rest to grow naturally and then resting the forced crown the following year. If you are growing early rhubarb, then it may well be ready to start harvesting towards the end of the month.
Harvest
Purple sprouting broccoli may still be harvested, though it may have finished by the end of the month. The last of the winter vegetables can also be harvested, including Brussels sprouts, kale, swedes and winter cauliflowers. Chard and spinach may still be harvested.
Any leeks left in the ground need harvesting in March. Freeze any excess for use later in the week. Alternatively, make a thick potato and leek soup and freeze it, thinning in out when you are ready to use it.
The last of your parsnips should be harvested early March otherwise they will start to re-grow. They can be stored for around a month in damp sand. Alternatively, make them into a mash (with carrots or swede) or soup and freeze.
In the Polytunnel/Greenhouse
Your polytunnel or greenhouse will be started to warm up now. Although the days are going to be warm, the nights will still be cold. Tender plants will benefit from heating in the greenhouse to ensure nighttime temperatures do not fall too low.
The following vegetables can be sown as seeds directly into the soil in your polytunnel or greenhouse.

Beetroot
Carrots (be aware they don't be ready until June which is too late for planting peppers or tomatoes
French Beans – both dwarf and climbing
Peas/Mangetout (like carrots, these will be ready too late to plant peppers or tomatoes in the same place
Radish
Turnips
Leeks
Lettuce
Rocket
Spring Onions (Scallions)
Swiss Chard