Feburary is usually a cold month for us, with many in more northerly climates will still have snow on the ground and frosts are still common.
This is a month where you really need to understand what the growing conditions are where you live. For some further south, planting will be possible, but for most of us, it is time to stay in side and lay the foundations for later in the year. It isn't worth planting much in the ground as it is frozen and waterlogged, which means many seeds will rot.
However, do not dismay as there are plenty of things you could be getting on with!
Harvesting
Any leeks left can be harvested and are best lifted before they get covered in deep snow. You can chop them and freeze them or make them into leek and potato soup and freeze. Parnsips and swedes can also be harvested to covered, either with straw or fleece, before the ground freezes sold.
You should still be seeing something from the brassica family (see me book on "Growing Brassicas" for how) at this time of year. Some Brussels sprouts may still be around as will kale and some of the early purple sprouting broccolis. Chard, mizuna and tatsoi could still be harvested as well.
Sowing and Planting
Start chitting your potatoes. Place your potatoes in egg cartons, without the lid on. Make sure the side with the most eyes is facing upwards. These can chit for several weeks until you are ready to plant them outside. Chitting pre-sprouts the potatoes before planting which helps speed up the growing process when you plant them. The jury is out of whether this needs doing or whether this just needs doing for maincrop potatoes. It doesn't hurt and certainly helps in cooler climates. Find out more about growing potatoes in my book "How to Grow Potatoes".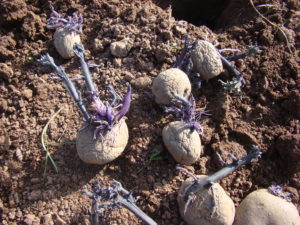 Onions seeds and sets can be planted now too. These can be started out in modules in an unheated greenhouse. Depending on the weather, onion sets can be planted direct, but if it is too wet then you run the risk of them rotting before they sprout. Onion seeds need a temperature of about 59F/15C to germinate, so they may benefit from being on a windowsill or in a greenhouse.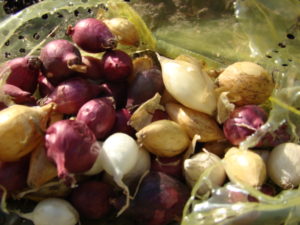 You can plant shallots and Jerusalem artichokes now, though it is best to cover shallots with a cloche to protect them from the cold. Early peas and broad beans can be planted now, though best to wait if the ground is too wet. Peas benefit from being started in a coldframe or greenhouse. Although tradition says to plant parsnips now, the cold, wet soil usually rots the seeds. Generally, they germinate better in March or April when it has dried up a little.
Summer cabbages can be sown now as can turnips and spinach.
In your greenhouse, you can get an early crop of radish, rocket and lettuce. Although you can use cloches outside, success depends on the weather.
If you own a heated propagator, then you can start peppers and aubergine (eggplant) now. However, these can get leggy due to the lack of light and some people prefer to wait a month or two before they plant these.
February Jobs
Now is a good time to prune your fruit bushes and trees, particularly autumn fruiting raspberries, blackberries, gooseberries and currants. With currants, cut back the sideshoots to a single bud and remove old stems from the middle of each bush. Apple and pear trees should still be dormant so can be pruned.
Early flowering fruit trees need protecting from the frost. If the frost gets their flowers, then they will not produce any fruit. Cover the trees with horticultural fleece.
Rhubarb can be forced, but remember if you force it this year, you need to rest it next year. Forced rhubarb is very sweet. Cover one or two crowns with a large black bucket to force the rhubarb, then insulate with straw or manure to help give it more heat.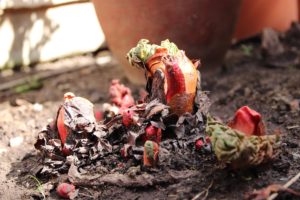 This is a good time to catch up on all the jobs that you haven't had chance to finish over winter before spring arrives. Check your greenhouse to make sure the glass is secure as high winds are likely. Clean your greenhouse thoroughly and replace any cracked or damaged panes.
Check over last year's potato bed and remove any left over potatoes. This will help stop diseases such as blight from spreading.
Any pots and seed trays that you are reusing, which we all should be doing, need washing and sterilising, again to prevent the transfer of disease.
Add compost of well-rotted manure to your potato bed and cover any soil with dark plastic sheeting to warm it up ready for you to plant.
There is lots to be done in February, and certainly plenty to keep you busy!