April is a fun time in the allotment or vegetable garden. Things are starting to grow, but not just the things you want … the weeds start to grow including the dreaded mares or horse tail. This will send up shoots with pods on the end that release spores to spread the plant. If you see any of these, pull them up and put them in a plastic bag and then get rid of them. All the other weeds are going to be growing well, but leave the flowers on the dandelions as these are a vital early season food source for bees. Many of these weeds are actually edible and could make for some free food!
We are starting to get serious now with our planting, it's full steam ahead with getting seeds in the ground and starting off plants like pumpkins and courgettes.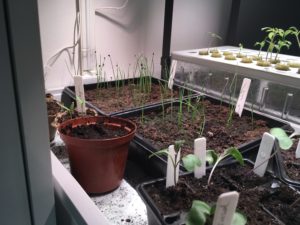 Harvesting
There will be things you can harvest now apart from weeds … young dandelion leaves make delicious salad greens and nettle tops can be cooked like spinach. Here are some of the things you could be harvesting in April:
Asparagus – always an exciting time and apparently best eaten within four hours of harvesting for maximum taste. These are harvested when they are about as thick as your index finger. Definitely one of the highlights of April and something I look forward to every year.
Salad Leaves – these will have been planted earlier in the year or overwintered. They are okay to start harvesting now.
Spring Cabbages – some spring cabbages can be harvested now, either completely or the loose, outer leaves can be removed and eaten.
Spinach – sown earlier in the year and planted out last month, the young leaves can now be harvested and used in salads.
Leeks – any leeks that are still in the ground need pulling now. You might have to trim more layers of the tough, outer leaves, but you need to free up the space for new crops.
Rhubarb – this is a spring favourite for many of us and it is incredibly prolific. There are lots of delicious dishes you can make from this.
Rocket – harvest when the leaves are about as big as your thumb. The more you harvest the leaves, the more it will grow.
Spring Onions – those that have been overwintered should be ready to harvest in April.
Lettuces – some frost hardy lettuces sown earlier in the year or last year will be ready to harvest now.
Spring Cauliflowers – cauliflowers planted last year and overwintered need harvesting this month before the heads discolour.
Swiss Chard – this is a popular winter crop and can be harvested in April to free up space for summer crops. If the stalks are tough, then strip the leaves from them and cook like spinach.
Sprouting Broccoli – this is the last month that any of the sprouting broccoli plants can be harvested, so enjoy picking them and free up the space for other vegetables.
Kale – any of last year's kale will be finished up this month, harvest it and enjoy it.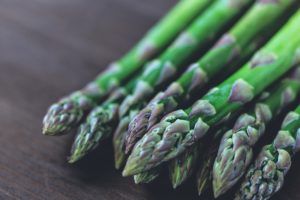 As you can see, there is a lot that you can harvest this month, though a lot of it is clearing space for summer crops. Cover any empty areas of your vegetable garden so that weeds don't take over and take the time now to dig in some good quality compost or chicken manure pellets to feed the soil ready for the next set up plants.
Sowing and Planting
This month is when sowing gets serious as many plants are started off now. Here are some of the flowers, herbs and vegetables that are started off in Apil.
Flowers
These are some of the flowers that you can sow in April.
In the greenhouse, undercover or indoors, you can sow the following:
Sunflowers – sow into pots indoors or directly into your garden borders. Remember to protect from slugs when they start to grow.
Nasturtiums – sow into pots now and plants out when all risk of frost has passed. They prefer a poor soil as a rich soil encourages plenty of greenery and few flowers. You can eat the flowers, leaves and the seeds, which when pickled are known as capers.
Scabuisa – start these off undercover now as they are a great summer flower for attracting bees and butterflies into your garden.
Marigolds – a good companion planting and these can be started now in a warm spot.
Summer Bedding Plants – finish sowing these this month to make sure you have a good display throughout the summer.
You can direct sow outdoors wildflower seed mixtures or hardy annuals.
Herbs and Vegetables
This is a key month for planting vegetables and there is a lot to start off! Remember to protect many of these plants from the cold.
In your greenhouse or indoors, you can start the following plants:
Tomatoes – if you haven't already started them, now is the time as they will be ready to plant outside once the risk of frost has passed.
Aubergine – these are best grown in a greenhouse in temperate climates as they can struggle with growing season length.
Basil – sow in a warm place and keep them frost-free.
Celery and Celeriac – start both of these off under glass to protect them from the frost.
Squashes – all of the squashes can be started off this month, so get your courgettes, pumpkins, marrows and squashes into pots under cover this month.
Cucumbers and Gherkins – towards the end of the month start these off undercover in individual pots.
Kale – this can be started under glass or direct into seedbeds outdoors.
Lettuce – start off in seed modules or outside and thin later in the year.
Beans – runner beans and French beans can be started towards the end of the month in module trays or individual pots.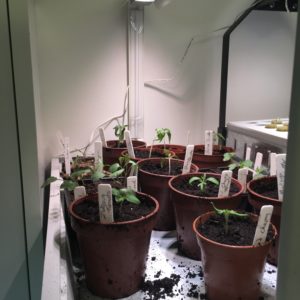 As the weather and soil are warming up, there are still plenty of vegetables you can plant direct in the ground.
Calendula – can be planted direct now as they are great for attracting insects and the flowers can be eaten.
Globe and Jerusalem Artichokes – direct sow these in your garden this month too.
Beetroot – direct sow these into prepared beds.
Broad Beans – direct so these for harvest in the summer months.
Summer/Autumn Cabbages – plant these now into properly prepared beds.
Broccoli/Brussels Sprouts – these too can be planted now, though remember not to plant brassicas in beds that had other members of the same family in the previous year or two.
Cauliflower – direct sow these, but wait until the end of the month.
Carrots – direct sow these into very sandy soil, keeping moist to help with germination.
Kohlrabi – these are an unusual member of the brassica family and great in salads or coleslaw. Planted now, they can be ready to harvest in as little as 8 weeks.
Parsnips – these can be sown outdoors or started on kitchen paper or in compost filled toilet roll inners. These are notoriously difficult to germinate, so always use fresh seed.
Sweetcorn – start off in modules (or toilet roll cardboard rolls) and plant out when the risk of frost has passed.
Peas – can be sown direct, though watch out for mice. Stagger your sowings over a period of several weeks to allow for a longer harvesting period.
Radishes – sow direct and stagger your sowings to avoid a glut.
Spinach – this can still be sown and will grow in partially shaded areas of your vegetable garden.
Spring Onions – these can still be sown too ready for a summer harvest.
Swede – sow in a rich, fertile soil for the best crop.
As well as this, your chitted potatoes (second early and maincrop), asparagus crowns, onion sets, shallot sets and garlic cloves can all be planted outside. Many of the rest of the herb family can also now be planted ready for planting out later in the year.
Fruits
Melon and strawberry seeds can be sown in your greenhouse or indoors now. If you are growing melons, then choose a variety that will grow in the areas that you live in.
Pot grown trees can now be planted outdoors as can bushes such as raspberry and blackberry. It is too late to plant bare-root fruit trees, but if you have some that you haven't had a chance to plant, put them in the ground anyway as you have nothing to lose.
April Jobs
There is a lot to do in April in your vegetable garden still including:
Plant out your strawberry beds, digging in plenty of well-rotted manure first. Cover your plants with cloches for an earlier crop.
Place cardboard collars around the stems of any brassica plants which will discourage the cabbage root fly from laying eggs and damaging your plants.
Divide hardy herbs such as chives, lemon balm, marjoram and so on to allow them to grow better.
Hardy perennials such as hostas, daylillies, and asters can also be divided and replanted now to give them a new lease of life.
Check your roses for aphids, the little pests will already be making their home on your plants. Shake them off or squash them with your fingers so that they do not have the chance to establish themselves.
If you have a pond, now is the time to put a bag of barley straw into it. This will help to prevent algae from forming and keep the water clear throughout the summer months.
April is the perfect month for laying turf or sowing grass seed to repair damaged patches, just remember to water it in well and not to walk on it until it has settled in. Also, remove moss and weeds and resow with grass seed to cover any gaps that are left.
Check your trees and shrubs, including rose bushes, for suckers and cut them away.
If you have gutters on your shed or greenhouse, check these and clear them of winter debris. April is typically a month with plenty of rain to fill your water butts up.
Troublesome weeds such as nettles, dock and brambles will be showing their faces during April if they haven't already. Now is a good time to get them out of the ground and stop them from establishing themselves.
Birds are now laying eggs and raising their young, so if you can put out food for them, they will really appreciate it.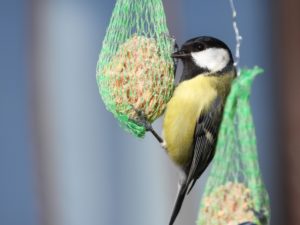 Greenhouse and Polytunnel Jobs
As the weather warms, you need to pay more attention to ventilating your greenhouse and watering the plants that are growing in there. They will start to dry out very quickly, which could be a problem for seedlings. If your greenhouse gets very hot, consider using some capillary matting or an irrigation system to keep your plants watered.
So what can you do in the greenhouse?
Sow late sweet peas in deep pots
Transplant tomatoes if they need it, remembering to provide them with sufficient support
Sow herbs such as basil, parsley, fennel, coriander (cilantro) and chives in containers for planting out later in the year
Thin fruits on nectarines and peaches, leaving about 4″/10cm between fruits
Start your beans in containers – French beans and runner beans can both be started now, but do not plant out until the risk of frost has passed
Plant squashes in pots now as well as cucumbers, courgettes (zucchini) and sweetcorn
Clear your greenhouse guttering out to make sure you can collect the water from April shows and clean the greenhouse glass if you haven't done it over winter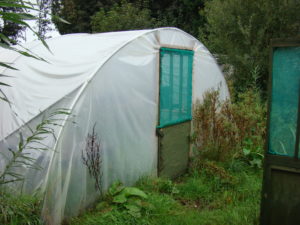 So you can see that April is a busy month, there is a lot you can do and the garden will be springing into life. Hopefully, you have taken some measures to keep the weeds down and reduce the amount of work you have to do there so you can spend more time enjoying your gardening activities!