December is a cold and wet month when many of us feel quite down that we can't get outside and enjoy our allotment or garden. Despite the frost and snow there is still plenty that can be done both outside and in the warmth of your home.
The cold weather is surprisingly useful to you as a gardener. It kills off pests and diseases so that they do not build up. When winter isn't cold enough there is always a big problem with diseases and pests the following year. The frost can also help break down soil that you have dug over and is necessary for some plants to germinate or fruit.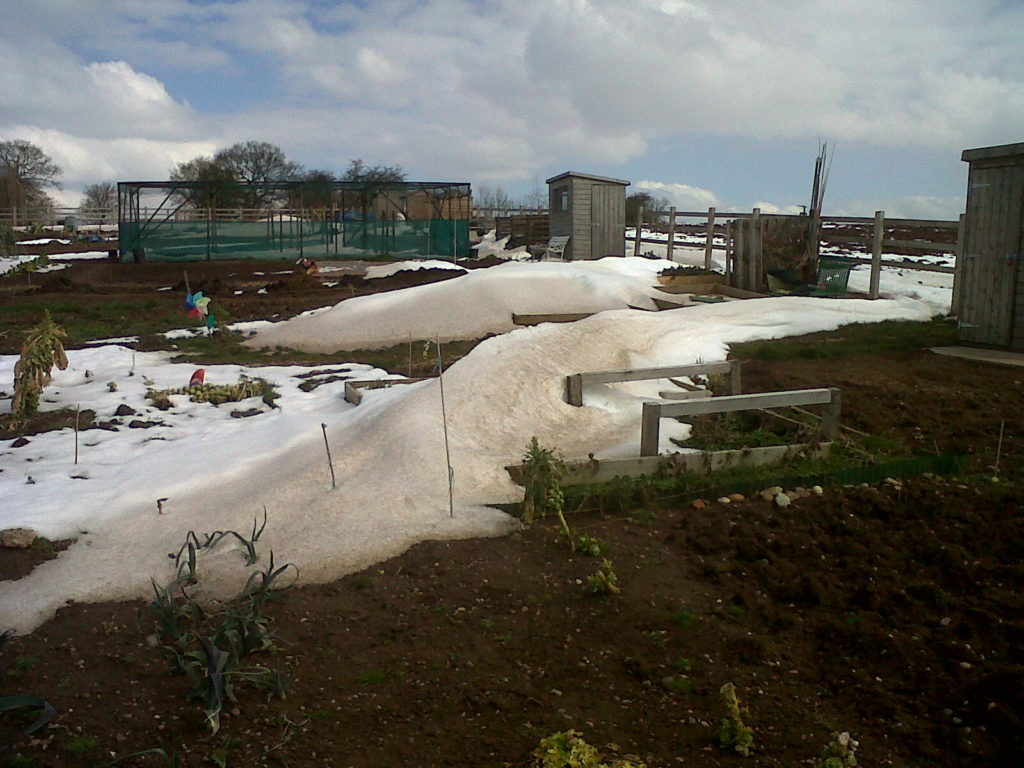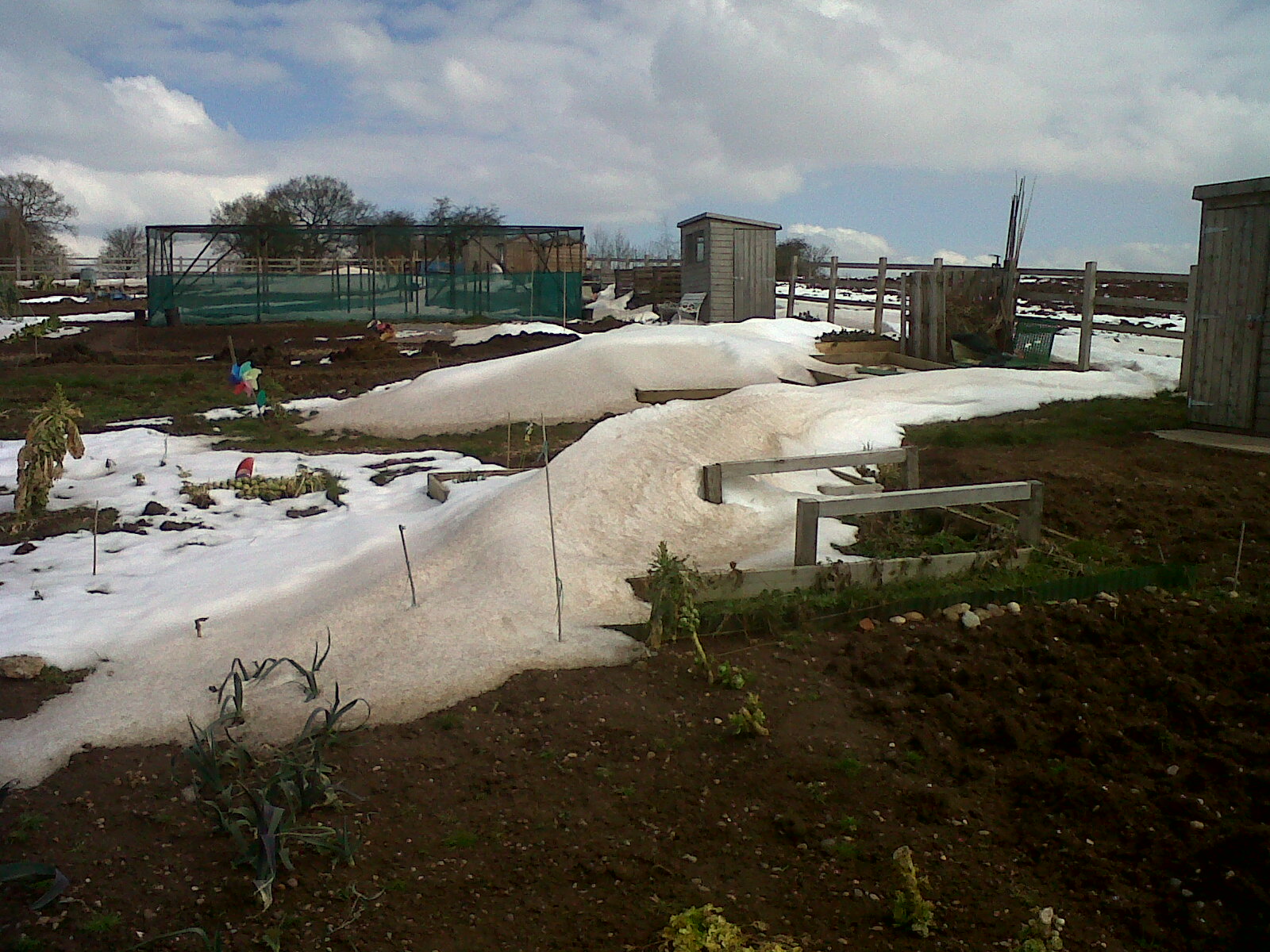 (This picture shows the snow drift I woke up to find on my allotment one year … underneath there was both onions and garlic which surprisingly enough survived and produced a great crop)
So, what can you do in the cold month of December?
What To Harvest
Even though it is cold, wet and frost outside, there is still things to harvest!
Brussels Sprouts – these will be in peak production this month, so get harvesting. You can cut the entire stalk and stand it in a bucket of water or harvest the sprouts from the bottom of the plant up. These can be blanched and frozen for longer term storage or left in place to be harvest nearer to Christmas.
Carrots – if the ground is in danger of freezing, harvest your carrots. Store those that are in good condition and the rest can be blanched and frozen.
Cauliflowers – protect the curds from frost by wrapping the outer leaves around the curds. Harvest as and when you need them.
Celeriac – leave them in the ground until you need them, removing any dead of dying leaves. If the temperatures are low, mulch with straw to protect them.
Celery – providing you have protected your late celery from the frosts, it can be harvested this month.
Jerusalem artichokes – dig up any remaining Jerusalem artichokes. Make sure you get all the tubers out of the ground, otherwise the plant will be back in the same place next year.
Kale – this is a great vegetable to have overwinter as some varieties such as Cavolo Nero can survive almost any weather. Keep harvesting leaves from the plants as and when you need them.
Kohl Rabi – harvest the last of these before the end of the month.
Leeks – harvest as and when you need them as they do not store well. However, they can be blanched and frozen.
Parsnips – lift as and when you need them. They can be stored in shallow boxes covered with moist sand if required.
Savoy Cabbages – harvest your savoy cabbages as and when you need them. They can be chopped, blanched and frozen or used straight away.
Swedes – harvest the rest of your swedes this month. After the end of the month they will start becoming woody and difficult to eat. Swedes can be stored over winter once they have been lifted.
Turnips – harvest the rest of your turnips this month otherwise they grow too large and woody. Store them indoors in boxes filled with sand.
Vegetable Plant Jobs
This is probably the quietest month on the allotment as there is very little to sow and the weather isn't usually very cooperative. Try to get out and finish off preparations for next year, particularly as January is usually a very cold and wet month.
Garlic – if the weather is mild and the soil is not frozen or waterlogged, garlic can be planted this month. If the soil conditions are not right, plant your garlic in February or March.
Fruit Tree/Bush Jobs
It is quiet in the fruit garden this month too. Your main job will be winter pruning trees.
Bare Root Plants – get these into the ground this month, digging in plenty of well rotten compost before planting.
Blackberries – bare root blackberries and hybrid berries can still be planted this month.
Grapes – winter prune outdoor grape vines before the end of next month and the sap starts to rise again.
Pruning – winter prune your apples and pears, unless it is very bold. Fruit bushes can also be pruned this month.
Raspberries – bare roots plants can be planted this month.
Rhubarb – plant new sets or divide and propagate existing plants.
Weed – keep the weeds down under your fruit trees.
(This is my butternut squash plant fleeced to protect it from the frost. It was the first time I'd managed to get one to produce fruit due to its long growing season and was keen for the fruits to ripen without getting damaged by the frost. I got a great crop from this plant and managed to harvest them all without frost damage thanks to the fleece)
General Jobs
This is mainly a month for housekeeping. If the soil is too wet or the weather too cold, avoid digging your soil as it disturbs the worms and micro-organisms living underground.
Cleaning – clean your pots, tools and seed trays using a disinfectant to ensure diseases and viruses do not survive through the winter.
Compost – keep turning your compost to encourage it to break down. Cover it to keep it warm and stop it getting waterlogged.
Cover Beds – any beds that are not going to be used need to be covered to keep weeds down. You can spread some well-rotten manure or compost on the bed first to improve the soil.
Digging – avoid digging if the soil is waterlogged or frozen. Basically, if when you walk on the soil, it sticks to your boots, it is too wet. Try to avoid walking on the soil and compacting it too much. Lay planks to distribute your weight.
Soil Improvement – add organic matter to your beds, digging extra into any beds that will grow beans or peas.
Greenhouse and Polytunnel Jobs
It will be quiet in the greenhouse this month. Keep an eye on the temperatures and, if you can, heat the greenhouse on the colder days to keep frosts away from any plants. Otherwise, keep vents and windows shut, particularly at night.
Pests – check overwinter plants for pests, particularly the red spider mite and treat appropriately.
Watering – water plants sparingly through winter and keep the greenhouse as dry as possible to avoid diseases.