January is traditionally a quiet month down at the allotment, but then that is usually down to the fact the weather is cold and wet. However, for those who are either willing to brave the elements or lucky enough to get decent weather there is still plenty of work to do.
What To Harvest
You can still harvest overwinter crops if you planned well last year.
Brussels Sprouts – keep harvesting these from the bottom of the stalks up. Pick them before they get too big and the leaves unfold.
Celeriac – harvest as and when you need it, but it will last in the ground for another couple of months. If the weather is very cold, spread a mulch of straw over the roots to protect them.
Endive – this can still be harvested, though it needs covering with a cloche to protect it from the cold.
Jerusalem Artichokes – leave these in the ground until you are ready to use them as they won't keep for long once lifted.
Kale – the leaves can still be harvested this month. Many hardy kale varieties will thrive in winter and provide a welcome source of winter greens.
Leeks – keep harvesting your leeks just before you need them as they do not store well once out of the ground.
Parsnips – these can still be harvested and can be left in the ground until required.
Sprouting Broccoli – some varieties of sprouting broccoli can be harvested now. Cut the spears as and when they are ready and you want to use them.
Swede – lift any remaining swedes and store as they will grow too big and become woody if left in the ground.
Winter Cabbages – these can be left in the ground and harvest as required, though make sure they are netted to protect them from pigeons.
Winter Cauliflowers – the first of these should be ready now. Check the heads are covered by the leaves to protect them from the frosts.
Winter Salad Leaves – plants such as land cress, winter purslane and corn salad are ready to harvest this month. They will need protection during the coldest weather.
Vegetable Plant Jobs
There isn't too much to do in the vegetable garden. Mainly it is maintenance and keeping out of the cold this month! However, if you have a greenhouse, there are some plants you can start off.
Broad Beans – if the ground isn't frozen, hardy broad beans can still be sown direct. If it is very cold, start the broad beans off in pots under cover.
Garlic – if the weather is mild and the ground not waterlogged or frozen, you can continue to plant garlic bulbs.
Leeks – sow leek seeds in pots in your greenhouse or cold frame.
Onions – sow onion seeds in modules in your greenhouse or cold frame.
Peas – hardy varieties can be sown in modules or pots and kept indoors until planting them out in March or April.
Potatoes – potatoes can be chitted this month in egg boxes or seed trays. Put them somewhere light but cool and they will start to produce shoots in a few weeks.
Radishes – as these germinate and grow quite fast, you can get an early crop by planting in modules or pots under cover.
Winter Salad Leaves – these can be planted in a greenhouse or cold frame.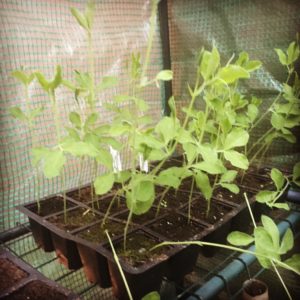 Fruit Tree/Bush Jobs
Beyond pruning and planting bare root trees/bushes, this is a quiet month for fruit.
Bare Root Trees/Bushes – these can still be planted providing the ground isn't too cold or wet.
Grapes – this is the last month to prune your outdoor grape vines before the sap starts to rise.
Pruning – apples and pears can still be pruned this month. Fruit bushes can also still be pruned.
Rhubarb – new sets can be planted this month and established plants can be divided. You can force rhubarb by covering a crown with a large bucket/bin so it produces shoots a few weeks earlier than normal. However, if you do this, rest that crown next year and do not harvest from it.
General Jobs
This is a good month to maintain your allotment, though you can find you are fighting against the weather. However, on the odd sunny, but chilly day, get out and keep on top of as much as you can.
Digging – keep digging your plot and adding well-rotten manure or compost to amend the soil.
Pots and Containers – clean these using a weak solution of household bleach to prevent diseases and viruses passing on to this years crops.
Stakes, Ties and Wires – check all of these across your vegetable garden and make any replacements or repairs as necessary.
Greenhouse and Polytunnel Jobs
There isn't much to do in your greenhouse, but there a few things you can get started on.
Hardy Annuals – plants such as cornflowers can be planted in modules in your greenhouse this month for some early flowers.
Heating – if necessary, keep heating your greenhouse to keep it frost free and protect tender plants.
Repairs – make any repairs that are required to your greenhouse, ensuring that doors and ventilation work and glass is securely in place.
Tidy – take advantage in the lull of activity to tidy up your greenhouse and remove any debris so there are fewer places for pests to hide.
Ventilation – on sunny days, open vents or windows so the greenhouse does not become too humid.