March is when it all starts to get busy in the vegetable garden as, hopefully, spring is on its way and the weather is warming. However, for many of us, March now means frosts and snow as the weather is colder and unpredictable.
Interestingly, in the UK, March 25th (The Feast of the Annunciation or Lady Day) used to be the start of the year, aligning with the spring equinox. When the Gregorian calendar was adopted in 1752, the start of the year moved to the 1st January.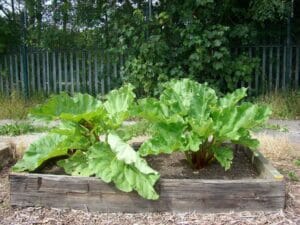 What To Harvest
March is a bit of a cross over month, where winter crops finish off and spring crops start, though there will still be plenty of eat on the allotment.
Brussels Sprouts – late varieties should still be ready to pick this month.
Celeriac – lift the last of your celeriac this month.
Kale – this can still be harvested this month.
Lettuce – winter lettuces, protected from the cold by a cold frame or cloche, will be ready to harvest this month.
Leeks – these will be looking a little battered after spending winter outdoors, but are still usable. Harvest them and use them as soon as possible.
Parsnips – any parsnips left in the ground need to be lifted this month otherwise they will start sprouting and become inedible.
Rhubarb – you should be able to start pulling some stems this month.
Spring Cabbage – this is the last month for winter cabbage and the first where your spring cabbages are ready. Harvest them before the leaves form dense heads.
Spring Cauliflowers – providing these have survived the winter, these will be ready to harvest this month.
Spring Onions – seeds planted last August or September should be ready to harvest this month.
Sprouting Broccoli – some cultivars will be producing spears this month. Keep harvesting them to encourage the production of new spears.
Swiss Chard – the first of this years Swiss chard, planted last summer, will be ready to harvest this month.
Vegetable Plant Jobs
In all but the coldest areas, March is a busy month sowing seeds, so hopefully you will have plenty of space on your windowsills and in your greenhouse!
Asparagus – plant asparagus crowns in prepared trenches this month and next.
Broad Beans – plant seeds outdoors now, but if it is too cold, cover them with cloches.
Brassicas – sprouting broccoli, red cabbage and autumn cabbages can be planted indoors or outdoors.
Brussels Sprouts – sow seeds indoors in pots.
Carrots – sow outdoors, but protect with cloches if it is too cold.
Celery – sow outdoors, but cover with fleece if it is too cold. Dig trenchs for your celery in the same way as you do for runner beans.
Celeriac – sow outdoors, but if it is too cold, cover them.
Garlic – this is the last month that you can sow garlic, so if you haven't already planted any, get it in the ground now.
Herbs – at the end of the month, it will be warm enough to plant seeds that can tolerate cooler temperatures such as dill, coriander, chives and oregano. They can be sown direct, but cover with fleece if a frost is predicted. Young plants of hardy herbs such as mint, thyme or rosemary can be planted out this month too.
Kohl Rabi – sow indoors for planting out when it has warmed a little.
Lettuce – salad crops can be sown indoors and outside this month.
Onions – onion sets can be planted now for a summer harvest.
Peas – peas can be planted outdoors, but if the weather is cold, cover them with cloches.
Potatoes – first earlies can be planted now if the ground isn't frozen. Plant 6″/15cm deep with 12″/30cm spacing with the shoots pointing upwards.
Radishes – sow under cloches or in cold frame.
Rocket – sow seeds under cloches or in a cold frame.
Runner Beans – start making runner bean trenchs to give the plants the best start. Dig trenches 2-3'/60-90cm wide and 12″/30cm deep. Fill them with compost over the next few weeks so it can rot down and provide the rich, fertile soil your beans will need.
Shallots – sow shallot sets this month with the tip just above the surface.
Spring Onions – sow spring onions under cloches or in a cold frame.
Turnips – seeds can be sown now, but if it is too cold, cover to protect them.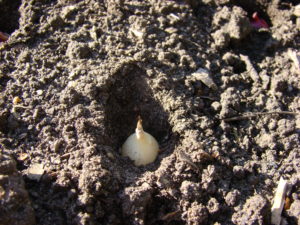 Fruit Tree/Bush Jobs
The fruit garden will be waking up this month, though it is quieter than the vegetable garden.
Bare Root Plants – this is your last month to plant bare root plants. From next month, you will only be able to plant container grown plants.
Feed and Mulch – feed and mulch your fruit trees and bushes using a high potash fertiliser.
Pollinate – apricots, peaches and nectarines flower early in the year and there isn't always enough insects around to pollinate them. You may need to hand pollinate your plants using a soft paintbrush.
Protect – cherries, apricots, peaches and nectarines will flower this year, but the flowers are susceptible to frost damage. If the flowers die in the frost, then the tree will not produce fruit this year. If there is a risk of frost, fleece the plants to protect them.
Raspberries – if you haven't already pruned your autumn fruiting raspberries, this is the last month you can do it. Cut them right down to the ground and new canes will appear to bear fruit.
Rhubarb – forced rhubarb can be harvested this month. Remember that once you have harvested from it, the crown needs to be left alone and not harvested next year so it can re-establish itself.
Strawberries – cold stored runners can be bought and planted out this month and should crop this month. Existing plants can be covered with cloches to encourage them to flower earlier. Remove the cloches on warmer days to allow for pollination.
Winter Pruning – finish winter pruning your blackcurrants, blueberries and gooseberries this month as they will be growing by next month and it will be too late.
General Jobs
This month is mainly about sowing seeds but you will be on frost alert, ready to protect delicate seedlings and blossoms from frosts. Continue preparing beds for planting next month.
Feed – overwinter plants such as onions, kale, cabbages and so on will be looking a bit tired now and will benefit from a feed. A top dressing of seaweed fertiliser, chicken manure or blood fish and bone will perk your plants up.
Fertilise – apply fertiliser to your soil. You can use pelleted chicken manure, seaweed or fish, blood and bonemeal. Scatter it over the soil and let it break down naturally.
Herbs- perennial herbs such as rosemary and sage can be trimmed to tidy them up. Herbs such as mint and chives can be dug up, divided and replanted. Remember, avoid planting mint in the ground as it is incredibly invasive
Seedbeds – rake seedbeds, removing stones and other debris from the soil. Keep beds covered until you are ready to plant in them.
Weeding – the warming weather will cause the weeds to spring to life as they too benefit from your hard work feeding your plants. As you turn the soil, you will also expose new weed seeds to the light, causing them to germinate. Dig out perennial weeds and how regularly to kill annual weeds.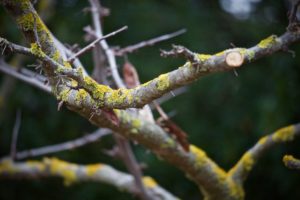 Greenhouse and Polytunnel Jobs
These should be warming up nicely now, but will still be cold at night and there is a risk or frost. You can plant some vegetables directly into the soil in your greenhouse or polytunnel. Just be aware that many of these will not ripen until June or July. If you are planting tomatoes or cucumbers as well, make sure you leave space for them as June/July is too late to plant these vegetables.
Aubergines – plant 5 seeds in a 3″/7cm pot and transplant when large enough to handle.
Basil – plant 4 seeds per cell in a seed tray, later in the month.
Celeriac – start this off in trays or modules in your greenhouse.
Celery – start off in modules in your greenhouse.
Courgettes – plant 1 seed per 3″/7cm pot.
Dwarf French Beans – start off in a large container for an early indoor crop in June.
Insulation – once the temperatures start to rise, insulation such as bubblewrap can be removed from your greenhouse so more light can get in.
Lettuces – these can be started off in trays in your greenhouse.
Peppers – plant 5 seeds per 3″/7cm pot and transplant when later enough to handle.
Pumpkins – plant 1 seed per 3″/7cm pot.
Squashes – plant 1 seed per 3″/7cm pot.
Sweet Peas – sow more sweet peas in your greenhouse in deep pots.
Tomatoes – plant 5 seeds per 3″/7cm pot and transplant when later enough to handle.
Ventilation – open vents on sunny days to prevent the humidity getting too high.